Our last
novel giveaway
was such a success that it's time to host another one!
Thanks to
0s & 1s Novels
, an independent digital bookstore, you get yet another chance to win a gift voucher for THREE (3) books plus one (1) for a friend.
My personal suggestion is Byrd by Kim Church.
I love to support North Carolina authors!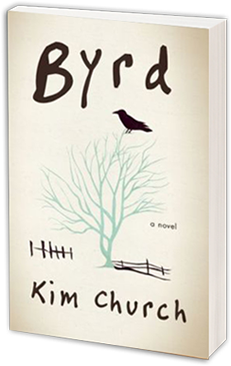 "You and me, we aren't like everybody else."
Addie Lockwood believes in books. Roland Rhodes believes in blues guitar. Coming of age in the small-town South of the 1970s, they form an unlikely friendship that makes each of them feel, if only for a short while, extraordinary.
They meet again in their disillusioned thirties, this time in California, where Roland's music career has landed him. Venice Beach is exotic, a world away from North Carolina and Addie's cloistered life as a bookstore clerk.
But when their whirlwind reunion leaves Addie pregnant, reality sets in. Conflicted, unready to be a mother, she gives birth and surrenders her baby for adoption without telling Roland, little imagining how the secret will shape their lives.
Told through sharply drawn vignettes and Addie's letters to her son, Byrd is an unforgettable story about making and living with the most difficult, intimate, and far-reaching of choices.
EXCERPT
Dear Byrd,

This is how I told your father.

We climbed up on his roof. We could see the ocean, wrinkles of light in the distance. I was wearing a billowy cotton skirt. I wanted to look soft, unthreatening, unselfconsciously pretty. I wanted your father to love me. My legs were pale, not used to sun in winter. I had painted my toenails lavender. I wanted him to be a little sorry he hadn't loved me all along.

The roof of his apartment was flat, asphalt. All grit and sparkle.

He was glad to see me, he said. He didn't ask why I'd come back.

He unfolded an orange blanket from his sofa bed and we laid out our picnic: smoothies, crinkle-cut fries from his favorite stand on the beach, canned peaches from his kitchen, and barbecue I'd brought from home, packed on dry ice. So much food. I had to make myself eat. I chewed slowly, counting each bite, the way you're supposed to, though I couldn't remember how high to count.

A warm breeze ruffled my skirt.

Your father offered to spike my smoothie, but I covered my cup with my hand.

I wish I could tell you we were young, inexperienced, not yet grownups or ready to be. That's the story you're expecting, isn't it?

We were thirty-two. We'd grown up together. Everything about the afternoon—our picnic, the roof, the sun, the salty air, your father's pilled orange blanket, him sitting close and warm beside me—had been coming all our lives.

After we'd eaten, when I couldn't put it off any longer, I told him my news, the news I had carried across the country to deliver in person. I thought if I could see him when I told him, I would know what to do.

I was delicate, telling him. Artful, as I'd practiced. So artful he didn't understand at first what I was saying. He blinked like the sun was hurting his eyes. The big white California sun, dazzling, warm even in February.

INTERNATIONAL / Must be 18+ to enter.

Please, read the Terms & Conditions listed in the widget below before entering.


A Rafflecopter Giveaway
All entries will be verified. If the winning entry cannot be confirmed, another winner will be selected.
Retweet winner(s) will be randomly selected by @0s1sNovels.