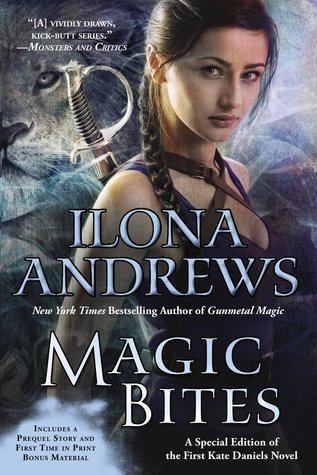 Kate Daniels is a down-on-her-luck mercenary who makes her living cleaning up magical problems. But when Kate's guardian is murdered, her quest for justice draws her into a power struggle between two strong factions within Atlanta's magic circles. Pressured by both sides to find the killer, Kate realizes she's way out of her league—but she wouldn't want it any other way…

This special edition includes in-depth information about the world of Kate Daniels, with descriptions of its characters and factions. Explore Kate's Atlanta like never before with answers to FAQ and a quiz to find your place there. And don't miss the prequel story "A Questionable Client," as well as scenes of events in Magic Bites from Curran's point of view.


This was one of those first-in-series that had been recommended to me countless times. I had high hopes, but it fell flat. The rhythm of the story flickered like a fey lantern. Sometimes, I was completely enthralled. Other times, I was bored out of my mind. Reading the special edition was helpful as there are a ton of extra features at the end (including a prequel novella). I read
A Questionable Client
after finishing book one, but it didn't help very much in filling in the holes. I loved the magic versus tech concept and the fact that vampires are actually monsters instead of just another glammed up love interest. I'm still a bit confused about the role of each faction but looking forward to book two, nonetheless. Kate was likable enough though I certainly don't feel invested in any of the other characters at this point. Hopefully, the next in series will captivate me. Otherwise, I won't be continuing with Kate Daniels.