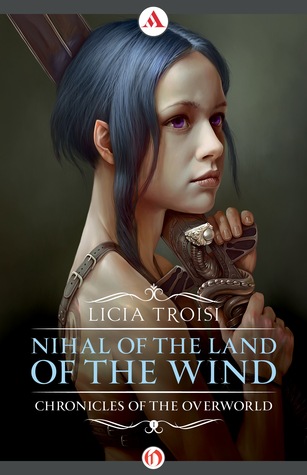 Nihal of the Land of the Wind
by
Licia Troisi
An international bestseller from an extraordinary storyteller—get ready for Nihal and her world.

Nihal lives in one of the many towers of the Land of the Wind. There is nobody like her in the Overworld: big violet eyes, pointed ears, and blue hair. She is an expert in swordplay and the leader of a handful of friends that includes Sennar the wizard. She has no parents; brought up by an armorer and a sorceress, Nihal seems to be from nowhere.

Things suddenly change when the Tyrant takes charge. Nihal finds herself forced to take action when she is faced with the most difficult mission a girl her age could imagine.

Fierce, strong, and armed with her black crystal sword, Nihal sets out to become a real warrior. Readers will be riveted as she forges her powerful path of resistance.
First of all, this is the first in series by an Italian author and the only one available in English.
I want more! Please, translate the complete trilogy.
Secondly, isn't that cover amazing? Wow.
This first book spans five years for Nihal, between the ages of 13 and 18.
If you're looking for a hard-ass feminist heroine, you may not enjoy this book as much as I did. Don't get me wrong, Nihal is a fierce warrior but quite naive. She is a girl becoming a woman during a time of great turmoil, inside and out.
This is an engaging high fantasy coming-of-age story, a quick read and never dull. By the end, I didn't just want but NEEDED more. I quickly grew attached to these characters and can't wait to find out what happens next.
If you're a fan of adventure, magic and rebel forces, this is certainly a read worth your time.
A perfect book for middle-grade and YA readers as well as for adults of any age!
*I received this copy from NetGalley in return for an honest review, and opinions are mine alone.